Prepreg is a composite material, used for reinforcing a fabric which has already been pre saturated with a resin system. As the prepregs have control of laminate thickness, better conformity and quality, its applications in aircraft interiors, aerospace components and for automotive parts have been increasing gradually.
Demand from Automotive Sector Key to Growth
As tow prepreg is used in manufacturing of CNG cylinders in automobiles, its demand in automotive sector can boost adoption. Due to covid-19 impact, automobile manufacturing sector witnessed a decline of 30%, but the industry is expected to rebound during 2021-2025.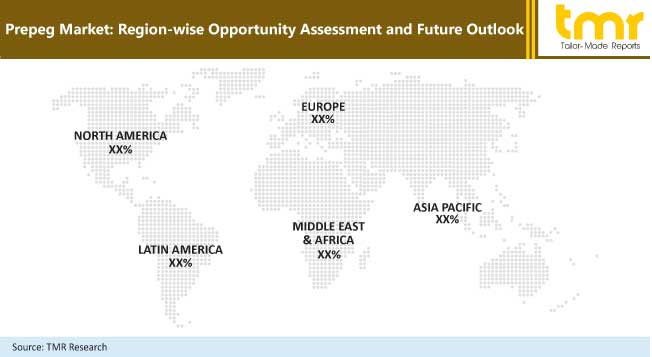 As per an article from MDPI, due to high mechanical properties, ultimate tensile strength, specific stiffness, excellent fatigue resistance and low weight of tow prepegs, these are preferred by manufacturers.
High Manufacturing Cost May Inhibit Adoption
Aramid, carbon and glass fibres used as raw materials for production of prepreg makes it expensive. Due to covid-19, cost of raw materials has been uncertain and the demand has also waned; these factors continue to pose challenges for prepeg manufacturers.
For example, sales of carbon fibre composites in 2019 were about 47% industrial and 46% in aerospace by application. Europe sector with 32% sales of carbon fibre composites was leading globally followed by America (26%), Asia and Japan (21%).
Competitive Landscape
Prominent players in prepreg market include Teijin Limited (Japan), SGL Group (Germany), Gurit Holding AG (Switzerland), Plastic Reinforcement Fabrics Ltd. (UK), Toray Industries, Inc. (Japan), Hexcel Corporation (US), Solvay Group (Belgium), Mitsubishi Chemical Holdings Corporation (Japan), Axiom Materials (US), etc.
Solvay, in February 2020, launched CYCOM EP2750, a technology to enable high rate, cost effective manufacture of aerospace structural parts. The material produces high quality small and medium size parts like access panels, rib-shapes, and c-frames.
The new prepreg is applicable to both primary and secondary structures, is compatible with different number of reinforcements. Its application includes commercial aircraft programs, military and air mobility platforms.
Toray and Joby aviation in December 2020 finalised a long term supply agreement. The agreement aims to bring affordable zero emissions flight that is both robust and light weight. Joby aviation has been developing its aircraft and plans of bringing it into commercial operation by 2023.
Teijin in January 2021 announced that they have established the European Sustainable Technology Innovation Centre in Arnhem, Netherlands for research and development facility. The research hub aims to strengthen development initiatives in Teijin's various business units. ESTIC will also help in developing green materials to support global circular economy and lower environmental impact.
Regional Outlook
Global demand of prepregs depends on a number of factors. Key factors among them are aircraft interiors and growth in aerospace industry. With the growth of these industries, the prepregs market is certain to grow.
North America is projected to lead the prepregs market and is expected to generate one third of global revenue owing to increased production of airframe and aircraft parts in the aerospace industry. Furthermore, escalating demand for new generation of aircrafts is projected to reflect the growth of prepregs. According to US Aerospace and Defense Report, aerospace industry in 2019 witnessed 9% surge in sales from 2018. Defense exports also increased by 10.5% balancing its decline of 2% in 2018 leading to fuel the adoption of prepregs in the region.
The prepreg market in Europe continues to lead with the aeronautics sector. France emerged as the top importer of America A&D products importing about $14.2 billion in 2019 as per US Aerospace and Defense Report. European defense sector remains a key contributor for security and the turnover in 2019 amounted for 149bn Euros. Military space in Europe accounted for 0.5%, military aeronautics for 18% and also providing employment reaching about 8,90,000 workers.
Rapidly expanding automotive industries in Japan, China and India is a key factor for growth of prepregs in Asia Pacific region. As prepreg is also used to produce wind blades with resin infusion technology, development in wind energy segment in India as government has set a target of installing 175 GW of renewable energy capacity by 2022 and 450 GW by 2030 coming from wind energy is expected to grow the adoption. China is also aiming to increase its wind and solar power to more than 1200 GW by 2030 according to the Global Wind Energy Council. Additionally, improved research and development sector is another factor for boosting the market.
Segmentation
Based on Resin Type
Thermoset Prepeg
Thermoplastic Prepeg
Based on Form
Based on Fibre Reinforcement
Carbon Fiber Prepeg
Glass Fiber Prepeg
Based on Application
Aerospace & Defense
Automotive
Wind Energy
Electronics
Sporting Goods
Based on Manufacturing Process
Hot-Melt Process
Solvent Dip Process
Based on Region
North America
Europe
Asia Pacific
Middle East & Africa
What are the types of manufacturing process in prepreg?
Hot melt process and solvent dip process.
What are the applications leading to the growth of prepegs?
Aerospace and defense, automotive and wind energy.
What are the types prepregs based on fibre reinforcement?
Carbon fibre and glass fibre prepregs.
What is the classification of prepregs based on resin type?
Thermoset prepeg and thermo plastic prepeg.
What are the leading market players for prepeg?
Plastic Reinforcement Fabrics Ltd. (UK), Toray Industries, Inc. (Japan), Hexcel Corporation (US), Solvay Group (Belgium).
This study provides a particularized anatomy according to the L.E.A.P mechanism
Latest trends and cardinal growth prospects
Existing and future insights in growth
Ascensions in technology
Pain points
The regional analysis offers market assays across:
North America
Asia Pacific
Europe
Latin America
The Middle East and Africa
The study, prepared through the L.E.A.P mechanism adds a dimension of infallibility and assures precise information on all the growth dynamics.
Latest Trends and Cardinal Growth Prospects
The study assists in burnishing the knowledge of the stakeholder in terms of the emerging trends. The study provides an expansive coverage on the latest developments and novel profit-yielding sources that augur well with the market. A dedicated and determined team of experts conduct an out-and-out research on diverse aspects to offer ultimate breakthroughs in the market.
Existing and Future Insights in Growth
The interfusion of ubiquitous primary and secondary research through modern tools invites perfection and accuracy in every aspect. Primary research is circumspectly conducted through exhaustive interactions and interviews of experts. These valuable opinions are then neatly inducted in the report to allow the stakeholder for reaping the benefits. A treasure of secondary data is extracted via famed paid sources, yearly estimates and statements, renowned journals, and government documents. These sources assist in creating a robust database comprising existing and subsequent growth dynamics.
Ascensions in Technology
Diverse technological advancements and cutting-edge innovations in the market have been covered in this study to assist the stakeholder in research and development activities. Recent upgrades have also been added in the study, thus helping the stakeholder to paint the strokes of growth on the canvas of the market.
Pain Points
The study presents a plethora of challenges and obstacles that can hinder the growth of the market to allow the stakeholder to prepare their strategies accordingly.
The world ushered in the new decade with the shadow of the COVID-19 pandemic. The outbreak has damaged the growth prospects of several businesses and has crippled the entire economy. The study is in tandem with the changing dynamics of the market due to the SARS-CoV-2 outbreak. The study focuses on the coronavirus pandemic and analyses every aspect that impacts the growth positively or negatively.
An aerial perspective of the regions covered in this study enables the stakeholder to design strategies accordingly. The 360-degree assessment of every aspect associated with growth offers information on a rainbow of growth opportunities available across the market.
The exhaustive study motivates the stakeholder to take the 'LEAP' of faith and achieve success!
This report is the key to questions such as:
What are the prominent factors that will help in reshaping the market growth?
Which trends have the potential to bring expansive growth for the market?
What are the necessary strategies to overcome the ill-effects of the COVID-19 pandemic?
Which regions will emerge as champion growth contributors for the market?
Which aspects will serve as game-changers for the market?
What are the latest innovations in the market?
Which factors will hinder the growth of the market?