Prepreg is a composite material, used for reinforcing a fabric which has already been pre saturated with a resin system. As the prepregs have control of laminate thickness, better conformity and quality, its applications in aircraft interiors, aerospace components and for automotive parts have been increasing gradually.
Demand from Automotive Sector Key to Growth
As tow prepreg is used in manufacturing of CNG cylinders in automobiles, its demand in automotive sector can boost adoption. Due to covid-19 impact, automobile manufacturing sector witnessed a decline of 30%, but the industry is expected to rebound during 2021-2025.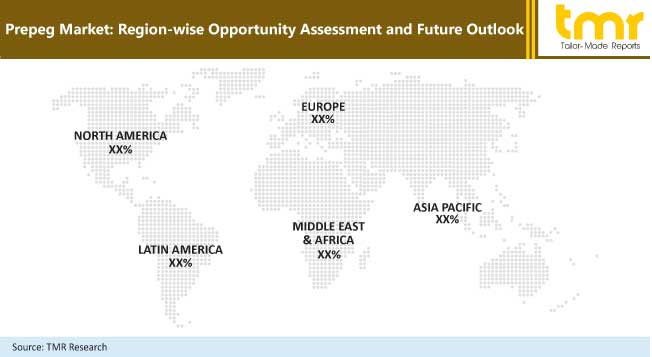 As per an article from MDPI, due to high mechanical properties, ultimate tensile strength, specific stiffness, excellent fatigue resistance and low weight of tow prepegs, these are preferred by manufacturers.
High Manufacturing Cost May Inhibit Adoption
Aramid, carbon and glass fibres used as raw materials for production of prepreg makes it expensive. Due to covid-19, cost of raw materials has been uncertain and the demand has also waned; these factors continue to pose challenges for prepeg manufacturers.
For example, sales of carbon fibre composites in 2019 were about 47% industrial and 46% in aerospace by application. Europe sector with 32% sales of carbon fibre composites was leading globally followed by America (26%), Asia and Japan (21%).
Competitive Landscape
Prominent players in prepreg market include Teijin Limited (Japan), SGL Group (Germany), Gurit Holding AG (Switzerland), Plastic Reinforcement Fabrics Ltd. (UK), Toray Industries, Inc. (Japan), Hexcel Corporation (US), Solvay Group (Belgium), Mitsubishi Chemical Holdings Corporation (Japan), Axiom Materials (US), etc.
Solvay, in February 2020, launched CYCOM EP2750, a technology to enable high rate, cost effective manufacture of aerospace structural parts. The material produces high quality small and medium size parts like access panels, rib-shapes, and c-frames.
The new prepreg is applicable to both primary and secondary structures, is compatible with different number of reinforcements. Its application includes commercial aircraft programs, military and air mobility platforms.
Toray and Joby aviation in December 2020 finalised a long term supply agreement. The agreement aims to bring affordable zero emissions flight that is both robust and light weight. Joby aviation has been developing its aircraft and plans of bringing it into commercial operation by 2023.
Teijin in January 2021 announced that they have established the European Sustainable Technology Innovation Centre in Arnhem, Netherlands for research and development facility. The research hub aims to strengthen development initiatives in Teijin's various business units. ESTIC will also help in developing green materials to support global circular economy and lower environmental impact.
Regional Outlook
Global demand of prepregs depends on a number of factors. Key factors among them are aircraft interiors and growth in aerospace industry. With the growth of these industries, the prepregs market is certain to grow.
North America is projected to lead the prepregs market and is expected to generate one third of global revenue owing to increased production of airframe and aircraft parts in the aerospace industry. Furthermore, escalating demand for new generation of aircrafts is projected to reflect the growth of prepregs. According to US Aerospace and Defense Report, aerospace industry in 2019 witnessed 9% surge in sales from 2018. Defense exports also increased by 10.5% balancing its decline of 2% in 2018 leading to fuel the adoption of prepregs in the region.
The prepreg market in Europe continues to lead with the aeronautics sector. France emerged as the top importer of America A&D products importing about $14.2 billion in 2019 as per US Aerospace and Defense Report. European defense sector remains a key contributor for security and the turnover in 2019 amounted for 149bn Euros. Military space in Europe accounted for 0.5%, military aeronautics for 18% and also providing employment reaching about 8,90,000 workers.
Rapidly expanding automotive industries in Japan, China and India is a key factor for growth of prepregs in Asia Pacific region. As prepreg is also used to produce wind blades with resin infusion technology, development in wind energy segment in India as government has set a target of installing 175 GW of renewable energy capacity by 2022 and 450 GW by 2030 coming from wind energy is expected to grow the adoption. China is also aiming to increase its wind and solar power to more than 1200 GW by 2030 according to the Global Wind Energy Council. Additionally, improved research and development sector is another factor for boosting the market.
Segmentation
Based on Resin Type
Thermoset Prepeg
Thermoplastic Prepeg
Based on Form
Based on Fibre Reinforcement
Carbon Fiber Prepeg
Glass Fiber Prepeg
Based on Application
Aerospace & Defense
Automotive
Wind Energy
Electronics
Sporting Goods
Based on Manufacturing Process
Hot-Melt Process
Solvent Dip Process
Based on Region
North America
Europe
Asia Pacific
Middle East & Africa
What are the types of manufacturing process in prepreg?
Hot melt process and solvent dip process.
What are the applications leading to the growth of prepegs?
Aerospace and defense, automotive and wind energy.
What are the types prepregs based on fibre reinforcement?
Carbon fibre and glass fibre prepregs.
What is the classification of prepregs based on resin type?
Thermoset prepeg and thermo plastic prepeg.
What are the leading market players for prepeg?
Plastic Reinforcement Fabrics Ltd. (UK), Toray Industries, Inc. (Japan), Hexcel Corporation (US), Solvay Group (Belgium).
The reports at TMR Research provide qualitative solutions that break the barriers of doubt or uncertainties when the stakeholders plan to expand their growth reach. The researchers compile the necessary information that enlightens the CXOs about the current growth opportunities in a specific market and enables them to make the most of the opportunities.
TMR Research is a leader in developing well-researched reports. The expertise of the researchers at TMR Research makes the report stand out from others. TMR Research reports help the stakeholders and CXOs make impactful decisions through a unique blend of innovation and analytical thinking. The use of innovation and analytical thinking while structuring a report assures complete and ideal information of the current status of the market to the stakeholders.
TMR Research has rich experience in developing state-of-the-art reports for a wide array of markets and sectors. The brilliance of the experts at TMR Research and their alacrity to conduct thorough research and create phenomenal reports makes TMR Research better than others.
5-Point Growth Formula
The 5-point growth formula developed by TMR Research provides an insight to the stakeholders and CXOs about the current situation in the market. The growth formula makes the report a perfect companion for the stakeholders and CXOs.
The 5-point growth formula includes the following points:
Current and Future Threats
Current and Future Threats
Along with studying the opportunities necessary for growth, threats are also an important aspect to look upon for the companies and stakeholders in a specific sector. TMR Research studies every negative aspect that will hinder the growth of a specific area of business and includes it in the report. The stakeholders and CXOs will have the benefit of assessing the threat and take the necessary steps to prevent the hindrance caused due to the threats.
Accurate Trend Analysis
Keeping up with the latest trends is crucial in any business or sector. While stakeholders are aware of the trends that are on the surface, TMR Researchers find trends that are deeply entrenched in the particular market or sector. The reports are constantly updated with the latest trends so that the stakeholders and CXOs can derive benefits from the trends and generate good revenues.
Regional Assessment
Demography forms an important part of the growth pattern of all the markets. Diving deep into the demographics enables maximum output from specific areas. The TMR Research team assesses every region and picks out the vital points that have a large impact on the growth of a market.
Industrial Analogy
The analysts at TMR Research conduct an all-round analysis on the competitive landscape of the market. The observations recorded by the analysts are added to the reports so that every stakeholder gets a glimpse of the competitive scenario and frame their business plans according to the situation.
COVID-19 Impact
The COVID-19 outbreak has changed the growth projections of numerous sectors and businesses. The analysts at TMR Research have conducted a conscientious survey on the markets after the pandemic struck. The analysts have put forth their brilliant and well-researched opinions in the report. The opinions will help the stakeholders to plan their strategy accordingly.