Potting Mix Additives Market: Outlook
Potting is something that gardeners and plant growers need to do periodically for plant nutrition. Soil is an essential part of potting and thus, for healthy root development in plants, it is important to add good soil. Different mixes and additives are added to soil to enrich soil quality. Some potting mix additives often contain amendments including fertilizers and unique moisture-retaining crystals with high nutrients, through which plants feed. Over time, these nutrients can be drained by plants from the soil. By adding a few mix additives, the used soil can be reused for potting. For example, adding perlite to the soil helps lighten the ground and delivers drainage. It can also help in increasing nitrogen levels in the soil by adding fertilizer with compost. Potting mix additives are developed to stay soft and not to compress too much in the containers. Particular potting mix additive mixtures are available for orchids, succulents, roses, and others. Perlite and vermiculite are common ingredients in potting mix additives, which are added to create an airier and less dense environment.
Key Aspects of Potting Mix Additives Market
Expanding demand for organic products helps in enhancing overall productivity, companies are developing premium gardening products for tapping the growing market demand for garden products, consumers are growing more organic fruits and vegetables in urban and suburban areas, and increasing awareness among consumers about waste reduction through use of natural products, and harmful effect associated with food containing artificial ingredients and chemicals. Additionally, the increasing interest in outdoor activities and expanding consumer focus on lawn and garden care to beautify their homes, maintaining, and enhancing home value is another factor for the growth of potting mix additives market. However, growing various labelling laws for garden products, drought conditions, and watering limitations in some part of countries may hamper the growth of potting mix additives market.
Global Potting Mix Additives Market: Segmentation
On the basis of type, the global potting mix additives market can be segmented as:
Bark Products
Plant Byproducts

Alfalfa Meal
Coconut Fiber
Cottonseed Meal
Seaweed
Soybean Meal
Others

Animal Byproducts

Blood Meal
Bone Meal
Worm Castings
Fish Meal
Others

Rocks & Minerals Byproducts
Others
On the basis of nature, the global potting mix additives market can be segmented as:
On the basis of application, the global potting mix additives market can be segmented as:
Flowers
Fruits & Vegetables
Lawns
Succulents
Trees & Shrubs
On the basis of end-use, the global potting mix additives market can be segmented as:
On the basis of distribution channel, the global potting mix additives market can be segmented as:
Store-Based Retailing

Hypermarkets/Supermarkets
Convenience Stores
Gardening Specialty Stores
Independent Small Stores
Others

Online Retailer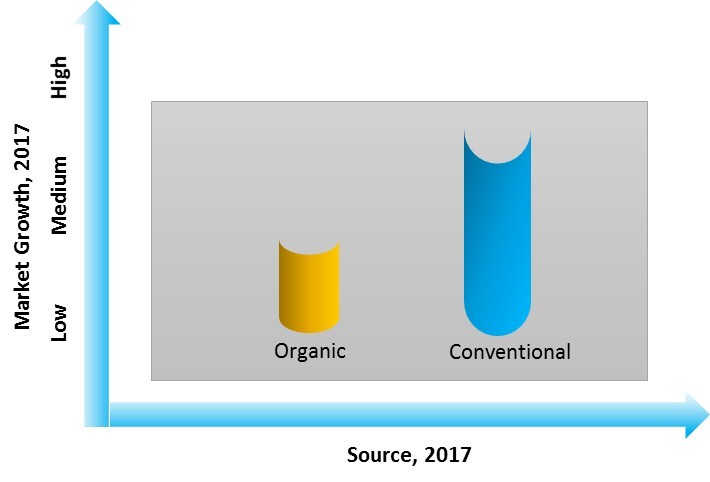 Market Share for Potting Mix Additives Market by Application, 2017
Global Potting Mix Additives Market: Key Players
Some of the key players operating in the global potting mix additives market are Green Fingers Potting Mix Company, The Scotts Miracle-Gro Company, The Tasteful Garden Company, Grow Green Mi Company, Mosser Lee Company, Sun Bulb Company, Inc., Dr. Earth, Inc., Vermont Organics Reclamation, Earth Juice, Inc., and others
Consumers are inclined towards premium products for garden products, growing trends towards online purchases is driving demand for buying garden products, and benefits associated with the potting mix additives such as soften soil, increase microbial activity, and it helps in delivering plants a rich source of nutrient such as calcium, nitrogen, and iron and these are some of the leading factors driving the growth of the global potting mix additives market. Moreover, companies are focused on adopting aggressive marketing strategies to expand their market footprint and enhance their customer base through developing new distribution channel.
Opportunities for Global Potting Mix Additives
With the increasing trend of clean label products, consumers are demanding for nutritional food to lead better and healthier lives. Further, growing companies are focusing on venturing into developing countries and forming partnerships with local farmers to develop healthier food products. These factors are expected to drive the revenue growth of the potting mix additives market at a rapid pace over the forecast period. Moreover, rising consumer interest in edible gardening, owing to increasing health concerns, is the primary factor accelerating the growth of the potting mix additives market.
Brief Approach to Research
The company will follow a modelling-based approach and triangulation methodology to estimate the data covered in this report. A detailed market understanding and assessment of the type, application, and distribution channel of the product segments covered in the study are followed by carrying out a demand-side approach to estimate the sales of target product segments, which is then cross-referenced with a supply-side assessment of value generated over a pre-defined period. The statistics and data are collected at a regional level, consolidated and synthesized at a global level to estimate the overall market sizes.
Key Data Points Covered in the Report
Some of the key data points covered in our report include:
An overview of the market, including background and evolution
Macroeconomic factors affecting the market and its potential
Market dynamics, such as drivers, challenges and trends
Detailed value chain analysis of the market
Cost structure of the products and segments covered in the study
In-depth pricing analysis, by key product segments, regions and by major market participants
Analysis of supply and demand, such as top producing and consuming geographies, imports/exports and overall trade scenario
Analysis of the market structure, including a tier-wise categorization of key market participants
Competitive landscape of the market, including detailed profiles of the top players in this market
The study presents a granular assessment and quantitative evaluation of:
Key growth factors and prominent trends
Size and share of key segments in overall market
Key challenges and winning imperatives
Factors shaping competitive landscape
Insights into how contours of market will change in coming years
Technological advances
New avenues and imminent investment pockets
Regulatory landscape shaping current and future strategies of companies
The region-wise assessment includes market dynamics in:
North America
Asia Pacific
Europe
Latin America
The Middle East and Africa
The study is prepared with the help of an extensive primary and secondary research. Primary research includes but not limited to interactions, interviews, surveys, and events. Opinions of policy makers and industry experts are carefully integrated into the insights to complement primary research. Volumes of secondary data gleaned through renowned paid sources, annual statements, reputed journals, and government documents offer insights into current dynamics and key evolution trajectories the market is likely to assume. The research employs various industry-wide analytics methods and well-established methodologies to ascertain the attractiveness of key segments. Further, it evaluates the lucrativeness of key regions and factors underlying their maturity. The insights notably include a detailed analysis of forces behind vendor differentiation and offers insight into investment-decision making by prominent players.
The report strives to enlighten businesses and industry stakeholders on multiple facets of the growth dynamic of the market, the key of which include answers to:
Which key factors will shape the competitive landscape?
Which trends will stimulate research and development activities in different geographies?
Which are the lucrative growth areas and what is the size of potential they are likely contribute to the overall market?
Which disruptions in market growth are likely to come with the new business models?
Which are some of the recent overhauls in policies that may change the course of the market significantly?
Which are the geographies that will form sizable sources of new streams to new and established players alike?
How are top players likely to realign their strategy to counter the forces of competition?
Which key strategies emerging players are likely to focus on to consolidate their position?
Which changes in end-user preferences might affect the status quo held by the leading players?
Which are some of the game-changing innovations influencing the projected share and revenue of the market and its segments?
Note: Utmost care has invariably been taken to present data and arrive at statistics at all the TMR Research reports. Meanwhile, some recent developments and new industry trends may take time to be included in the reports.